January 23, 2020
6 minutes
10 Employee Engagement Activities in Companies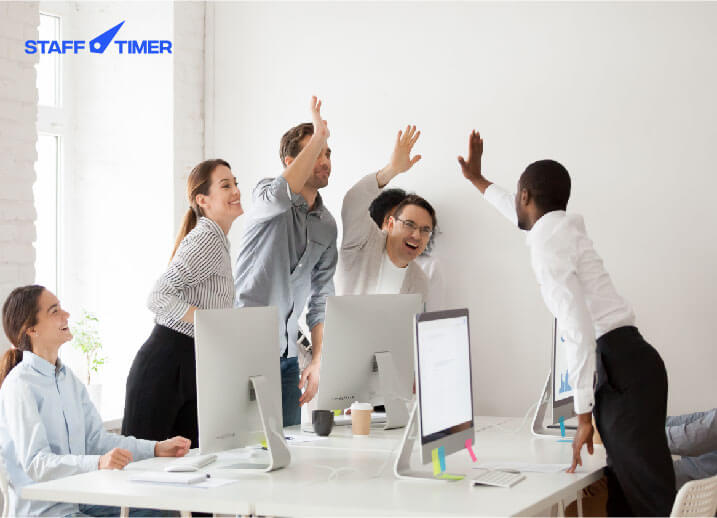 Employee engagement activities aren't considered as important as they should be. But before you start crunching numbers and coming up with some new activities, know that employee engagement is essentially a mindset. The only way employee engagement activities can yield the desired result is if you keep your focus on the "why" of the issue.  
Don't just look at the figures and statistics. Treat your employees with empathy because they are humans with their own ideas, thoughts, accomplishment, and problems. They are not just there to make money for your company, they are vital resources that need nurturing in order to deliver satisfactory results. 
Importance of Employee Engagement Activities 
The Importance of employee engagement activities can't be overstated. They have time and again proven to:
Decrease staff turnover rate

Improve efficiency and productivity

Retain more customers 

Increase profits
Most importantly, engaged employees are obviously happier, both in their professional and personal life. Everything done with increased engagement has longlasting effects on the culture of the workplace. 
Purpose of Employee Engagement 
The main purpose of employee engagement is to attract and retain top talent. Recent research has shown that more than a quarter of employees is at a high risk of turnover. The most worrying part is that one-third of those at risk are talented employees that go above and beyond what's expected of them. They are eligible for other positions. 
When competition is fierce and the cost of training new employees is sky-high, employee engagement activities become vital. Plus, these activities can directly increase the productivity of a team and take it to the next level. 
Try Staff timer app free for 2 months
How to Engage Employees
Some of the top employee engagement activities include:
Involving Employees in Your Business Planning
Have a big meeting with all of your employees every six months or so. Tell them about the most important issues faced by your company and how you plan to address those issues. Take your team on board while making future plans, assessing opportunities, and refining pre-existing business strategies to suit your needs. 
Creating an Efficient Knowledge Sharing System
High employee turnover rate means inevitably results in the loss of essential information. One way to avoid it is by creating a kind of knowledge sharing system. It avoids extra cost to some degree and has proven to be a great engagement driver for new hires. 
We recommend implementing a mentorship program that pairs new employees with experienced ones. It will quickly get the new hires up to speed and help familiarize them with the working process of your company.  
Showing Them the Financial State of Your Company
Don't hide your company's financial record from your employees. Flaunt it and instill your employees with confidence. 
Give a quick presentation at the end of every year or quarter. Show them the fruits of everyone's efforts, set ambitious goals for the next phase, explain how everyone involved can meet those goals. This eventually becomes a set of activities that keeps the employee engaged and full of purpose. 
Creating a Learning Environment
One of the main reasons why employees quit companies is a lack of learning opportunities. They claim that employers always demand more but don't provide an environment that encourages growth. 
Make it easier for employees to access the required knowledge and development opportunities. 
Hyping Upcoming Opportunities
Get your employees excited about upcoming events. Let them know that opportunity is knocking on their door and they better grab it with both hands. You can communicate these opportunities in your internal newsletter, directly, or during the monthly meeting. 
If your employees are optimistic about your company's future, they'll ignore those poaching emails from other companies. 
Start Your Own Internal Magazine
Create a magazine focused solely on your employees. Fill the magazine with witty columns, news, stories, and opportunities. We're sure that most of the staff will love to be featured on the cover as Employee of the Month. 
The magazine could be in online or print form. You can even go for both forms; a monthly online and a quarterly print issue. 
Encourage Individuals to Take Responsibility
Each and every employee is the hero of their own story. They need to carve out their own career path and set goals for themselves. 
Have your employees write their goals on a piece of paper. Tell them to put the paper in an envelope and seal it. After six months or so, give them the sealed envelopes to let the see if they've accomplished their goal. 
Get involved with your local social and charitable initiatives. Giving back to your community helps you get in a positive mindset. It also cultivates pride and loyalty. 
Have your team pitch some causes and start supporting the one you feel most strongly about. Make it your personal mission and not just some hobby. Get your employees involved as well. Let them feel and know that they're making a difference. 
Listening to employee feedback is just part of the equation. You won't be able to build any engagement without actually acting on said feedback and making the necessary changes. 
This doesn't mean that you should act on feedback from all your employees. Prioritize feedback from your high-performing employees. If they feel like their voice isn't being heard, they'll most likely look for other opportunities. 
If you're not sure who your high-performing employees are, use Staff Timer to monitor and receive daily intelligence reports on employee tasks and projects.  
Allow Personalization at the Workplace
When you depersonalize the workplace, you end up dehumanizing your employees. Encourage them to put some personalized items on their desks. Normalize diversity and inclusion. 
In short, create policies that accept different hairstyles and clothing options that reflect their individual beliefs and values. 
Key Takeaways
Employee engagement activities are absolutely worth their weight in gold. There are countless benefits of having engaged employees that believe in what they're doing and look forward to their day. 
Always remember, satisfied employees means satisfied customers. 
Subscribe to our blog
Stay connected with Stafftimer App by subscribing to our Newsletter.