January 16, 2020
8 minutes
Cheapest Ways to Send Money to India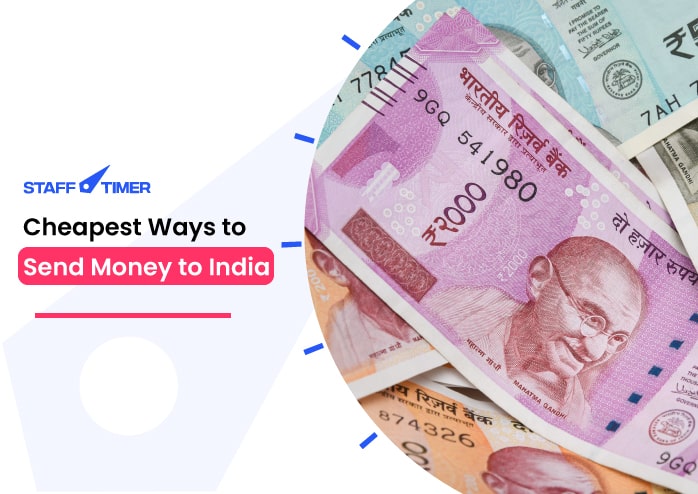 India has a large pool of talented freelancers and thus people are always looking to find the cheapest way to send money to India from USA. You might wonder why people would want to hire a workforce from another country. The reason is simple. An increasing number of businesses are looking to hire remote employees to save money on workplace costs. And this trend is only going to grow bigger as more and more companies become aware of its positive effects. 
But every rose has its thorn. There are numerous difficulties with remote employees as well. One of the major ones is choosing the best payment option. This article is going to outline some of the best ways to send money to India. 
Things Are Now Easier

It's now very easy to send money to India. There are so many options out there that it becomes difficult to choose the best one for your needs. All these different options have their own advantages and disadvantages. It's important to do thorough research first before coming to a final decision. When sending money to India, here's what you should look for:
Speed.

How quickly do you want the money to be sent? The rates will differ depending on how fast or slow you want your transactions to be.

Exchange rate

. Keep your finger on the pulse of exchange rates. Be sure to get the best possible rates of yourself.

Fees.

If you send money from bank-to-bank then it shouldn't add fees. Don't pay more than you should and avoid using cards.

Convenience.

It might appear as a luxury but you still have to take convenience into account. If there's an app that makes things easier then take advantage of its features.
Best Way to Send Money to India from USA
There are no absolutes when talking about payment processing. Some of the best ways to send money to India include:
ACH Transfer

An Automated Clearing House (ACH) transfer might just be the cheapest way to send money to India from the US. You just need to send money from your bank using an ACH transfer. The recipient should get it within 4 working days. There are no additional fees or trips to the bank involved, saving you lots of time and money.
According to this article, "The most common uses of ACH are online bill payment, mortgage and loan repayment, and direct deposit of payroll. ACH payments are an efficient and cost-reducing alternative to paper checks and credit cards.
On the Internet, ACH is primarily used for person-to-person (P2P), business-to-customer (B2C), and business-to-business (B2B) payments."
Pros:
Brings an element of convenience because of the one-time process.

Usually free at some banks or money transfer services while only incurring small fees at others.
Cons:
Not the ideal option if you require a fast transfer.
Try Staff timer app free for 2 months
TransferWise
TransferWise offers a cheap way to transfer money from the US to over 70 Countries, India included. Its exchange rates are some of the best you'll find. But like many other transfer services, TransferWise isn't the best option if speed is a priority. 
According to this Telegraph article, "If your business transfers money overseas regularly, TransferWise can help save you money by giving you access to the real mid-market rate of exchange, and charging only a small, fixed fee for the transfer. You can get a TransferWise multi-currency borderless account for business, which holds balances in more than 40 currencies, to send and receive payments all over the world."
Pros:
Relatively cheap because of the mid-market exchange rates. For example, to send $1000 to India, you'll incur $8.94 in fees.

It has an app and website that makes this convenient.

The minimum transaction amount is £2.
Cons:
Takes about 3 working days to transfer money from NA to India

Unexpected delays in transfers 

Additional documents required for some transactions
Money Orders
Money orders are paper documents, like checks, that are used for payments. They are prepaid and only available when after a buyer pays for the money order with cash or some other form of guaranteed funds.
Many banks offer this service and charge very small rates. To cash the checks, some form of ID is required. If lost, the full amount can be easily recovered. 
Money orders are ideal for situations where using cash, check, or digital app isn't viable. 
Pros:
A safer option than cash

Won't bounce like checks for insufficient funds
Cons:
You'll have to go in-person to your bank or dealer

Mobile deposits aren't allowed by all banks
Wire Transfer
Wire Transfer is one of the oldest transaction methods out there, existing for over 50 years. If you chose this method then you'll have to go over to your bank or some other agency in order to complete the transaction. 
When you completely provide all the necessary information about the recipient to your bank, they'll initiate the transfer. 
Most banks have a wire transfer service but you'll still have to check with your bank to get accurate information on the whole process. Plus, services like Western Union also offer "wire transfers". 
Pros:
It offers quick service, mostly within 24 hours. 
Cons:
You'll have to pay for a fee for the quick service, usually within $10-35 USD. 

Not very secure as once payments are sent, they can't be stopped.
MoneyGram
You might have heard of MoneyGram already. It's a pretty big player in the international money and remittance market. Every day, hundreds of thousands of customers use MoneyGram to transfer their funds.
Its popularity is due to its fast and secure transactions. However, these transactions incur a slightly higher fee than some other transfer services. 
When the time comes to hand over or collect actual cash, transfer services like MoneyGram is at the forefront of people's minds. 
Pros:
Very quick service that allows recipients to get the money within 24 hours.

It has at least 347,000 local agents in over 200 countries.

It is well-known for its security and reliability. 
Cons:
It has higher fees than other transfer services.

Hidden currency conversion can cost around $10.

Different countries have different required documents.
Western Union
Western Union is so popular that it is practically a household name now. This transfer service's popularity is mainly due to its dependability, convenience, and ease-of-use.
You'll find a Western Union branch in almost every country, even offering a local withdrawal option. But where there is light, there is darkness. Transfers through Western Union may take varying amounts of time, some transfers may even take a week. 
Western Union is best used for one-off transactions, money orders, and selling online. 
Pros:
The app is convenient and easy-to-use.

For pickup, over 125,000 in India alone.
Cons:
Slow transfer but can be increased with additional fees

Not viable for small transactions
PayPal
PayPal is one of the biggest names in payment processing. The reason why you're able to transfer money without the use of a credit card or bank account is all thanks to PayPal.
With PayPal, the sender doesn't incur any fees but the recipient may have to cover a small fee. The service is mobile-friendly, making money transfers easier. 
Pros:
Its sign-up process is free and easy.

Can be integrated with several third-party solution providers

Supports multiple currencies, including the Indian Rupee.  

The process is very secure thanks to online encryption.
Cons:
It is not entirely free as there is a fee for each transaction.

Not suitable for large sales as there is an increase in fees along with an increase in transactions. 

Countless stories of account freezing in which customers couldn't access their account and money after being flagged down as risky or involved in fraudulent activities. 

You'll have to pay extra charges for complete features and benefits.
Personal Checks
Personal checks might not be as popular as some of the other aforementioned options but they do represent one of the safest options. Why? Well, the check cannot be cashed by a random person because the recipient has to show his/her ID. Plus, checks that don't reach their destinations can be easily canceled. 
Checks might be old-school but they still have some use in today's world. Some small businesses, landlords and real estate people still accept checks. 
Pros:
It provides security as the checks are written and verified.

It can be easily canceled at any time. 
Cons:
Foreign checks might not be accepted by some banks

Exchange rates might need to be paid by the recipient
Key Takeaways
You'll most likely find the best and cheapest way to send money to India from our list of transfer services. But what is best for some may not be ideal for others so take your circumstances into account before making a final decision. 
Do share the article with others if you personally found it helpful. Best of luck!