February 3, 2020
6 minutes
Best Time Clock Apps for Multiple Employees in an Organization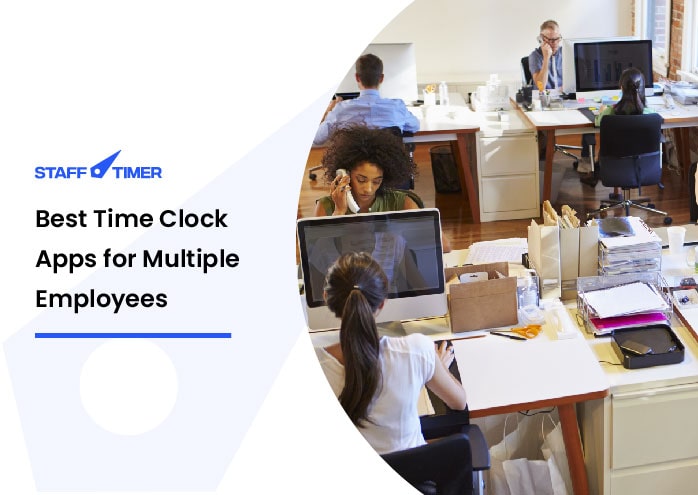 If you're searching for the best time clock apps for multiple employees then its safe to say that you want to improve employee productivity and aren't fond of wasting time. You're in luck then because we're going to talk about some of the best employee time tracking apps for 2020. 
Businesses looking to expand and increase their workforce need a quality time tracking app that is easy-to-use, multi-purpose and doesn't cost a fortune. It might feel like most of these apps are only available on Android and iPhone, there are still plenty of amazing apps for Windows and macOS. 
To help you find the most suitable app for your business, we've come up with a list of apps that are sure to make you sit up and take notice. 
Choosing a Time Clock App for Multiple Employees
Before embarking on your quest for the best employee time tracking app, you first need to make a list of features that you'll like in an app. You most likely have your own specific requirements that depend on the size of your company and workforce. 
Every app offers different features and functionalities. But this doesn't mean that you require each and every one of these features. Keep your eyes on your core requirements. That said, there are some features that every great app should have in common. 
For instance, good employee time tracking apps should let you manage both employees and projects. There should be timesheets and productivity reports that help you gain new insights into the overall workflow of your company. 
At the very least, the employee time tracking app should have a timer that can start and stop at any time. Plus, the app shouldn't be so complicated that employees end up wasting a lot of their time just trying to learn how the software works. 
Try Staff timer app free for 2 months
Staff Timer 
Staff Timer is one of the best employee time tracking apps for Mac and Windows. It uses modern tools to monitor employee work activities and get a hold of billable and non-billable hours. Its UI is easy on the eyes and simple to use. Just create a project, make a task within the project and start the timer. Its main features include: 
Automatic time capture

. Staff Timer will take a screenshot after every minute so that a record of employee progression can be kept. 

Keyboard and mouse activity.

Check how active your employees have been on their keyboards and mouse.

Offline time tracking. The app will still keep tracking the time even if for some reason the internet is not available.

Real-time monitoring.

Make up-to-date and informed decisions by observing how your employees are completing their respective tasks.

Daily work videos.

A video clip demonstrating the whole day's activity within a minute is generated every day. 

Record and assign.

Let's employers use audio clips to assign various tasks. 

Intelligent reporting.

Daily work reports help employers identify weaknesses in employee work performance, examine their output, and suggest necessary improvements.
Platform: Windows and macOS
HoursTracker 
For companies that have busy employees and are in need of accurate time tracking app, HoursTracker is a good choice. Also, if your employees are on the go and don't have the time to manually start and stop the timer, introduce them to HoursTracker. 
The app can easily track hours, earnings, expenses, breaks and much more. Its user interface is easy to understand, letting employees instantly clock in and out. One great thing about the app is that it can track hours based on whether employees are arriving at or leaving their workplace. 
Platform: Android and iOS
Toggl
Searching for an app that works on just about any system? Toggl is a good place to start. Its UI is simple and impressive. Just like most time tracking apps, you open the app, create a new entry for the project, and start the timer. Once your task is complete, press the stop button, and the total amount of time will be recorded in your account.
It's free features include: 
One-click timers.

Users only need to click one time to start a new task or to continue tracking the previous one. 

Reminders.

It's common for users to forget to start or stop the timer. The Toggl Button and desktop app send notifications to the user if that happens. 

App Integration.

Users can put the Toggl Button inside their favorite online apps to start tracking time immediately.
Platform: Android, iOS, Mac, Windows, and Web
Time Doctor
This app is suitable for managing remote teams and businesses. Time Doctor specifically concentrates on companies that want to keep an eye on their remote workers. It includes features like automatic screenshots and website/app tracking to give employers greater control over business operations.  
Its main features include:
Screenshots.

Takes automated screenshots that let employers see what their employees are doing. 
Attendance tracking.

Keeps track of attendance and lets employers identify employees who are late. 
Web and app usage.

This feature allows employers to track app usage and know how much time their employees have been spending on unproductive apps. 
Platform: Android, iOS, Mac, Windows, and Web
Rhumbix
If your company dabbles in construction and is looking to modernize its operations, Rhumbix will help you go paperless by providing a single source of truth for filed data capture. 
Its main features include:
Timekeeping and payroll.

Streamline your timekeeping and payroll process by submitting timecards from the field within minutes. 
Production tracking.

Analyze, track, and optimize your labor productivity through real-time field data. 
Daily construction reports.

Get the field, office, and general contractor on the same page by providing real-time field data in a daily digital report. 
Platform: Android, iOS, and Web
OsMonitor
OsMonitor is ideal for recording and tracking computer activities such as Instant Messaging chats and visited websites. Monitoring data is stored on the server database and will generate reports based on your employees' work activities. 
Its main features include:
Monitoring.

The app lets you take screenshots and track visited websites. The data won't be lost even if your employees deleted the history on their own computers.
Restricting.

Block undesirable actions such as games, USB port, large downloads, etc. 
Reports.

Read all kinds of reports on the OsMonitor server and export them to Word, Excel, or HTML format. 
Platform: Windows
Key Takeaways
These are some of the best time clock apps for multiple employees. We're sure that you'll definitely find the most suitable app for your business. If you found this app helpful then be sure to share it with others. Good luck and stay productive.