GDPR Compliance and Employee Data Monitoring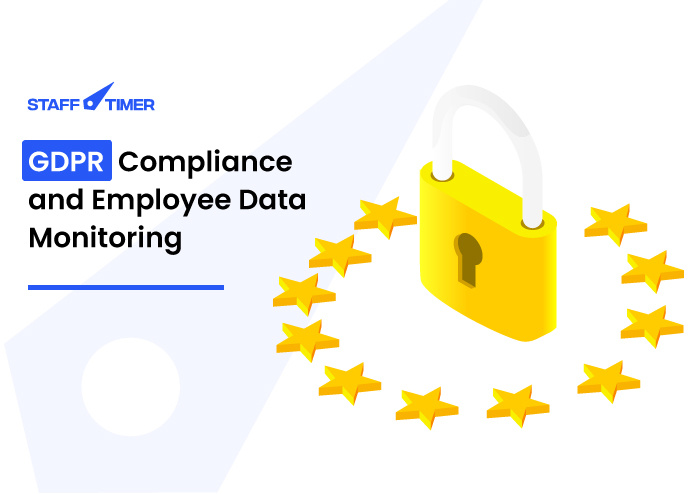 The General Data Protection Regulation (GDPR) reached a consensus among the European Parliament and Council members in April 2016 and effectively replaced the Data Protection Directive 95/46/ec on May 25, 2018. This meant that the GDPR became the main law regulating how organizations protect EU residents' personal data. All companies that failed to achieve GDPR compliance before the Spring of 2018 received significant penalties and fines. 
If you have plans to use employee monitoring software then you'll be naturally concerned about GDPR compliance. You want to know about your teams' overall productivity, but also protect their personal data and stay GDPR compliant. 
GDPR Definition
The Data Protection Directive 95/46/ec from 1995 was very outdated so the GDPR was long overdue. It requires organizations to protect the personal data and privacy of EU residents for transactions that occur among EU state members. Its total influence is not only limited to the EU as the GDPR also regulates the international trade of personal data. 
Who Must Be GDPR Compliant?
The GDPR regulations clearly state that if a "controller" wants to collect the personal data of anyone living inside the EU then they must ensure GDPR compliance. This "controller" could be a person, public authority, agency, or any other body that wants to collect data. If they fail to follow the regulations they face a fine of 20 million EUR or 4% of their worldwide revenue, whichever is found to be higher. 
Don't think that if you're not physically present in the EU you can escape these fines. They'll still be applicable. Specific criteria for companies required to comply include: 
A presence in the EU

Processes personal data of EU citizens

More than 250 employees
Industries most affected by GDPR include:
Technology sector

Online retailers

Software companies

Financial services

SaaS

Retail packaged goods
GDPR Compliance Requirements
Some of the key data and privacy protection requirements include:
Obtaining consent from subjects for data processing

Anonymizing of data in order to maintain citizen's privacy

Providing notifications in case of data breaches

Handling the safe transfer of data across borders

Requiring specific companies to appoint an officer that oversees GDPR compliance
What is the GDPR Certification?
As the name suggests, GDPR certification refers to becoming legally compliant with the EU's personal data regulations. It's a new feature of GDPR law that lets people or organizations receive certification from approved bodies. These certifications allow businesses to show to both the EU and potential consumers that they are in compliance with the GDPR. 
Acceptable GDPR certification bodies include:
EuroPriSe 

TRUSTe

Cyber Essentials

ISO 27001 Information Security Management Systems
GDPR Compliance for US Companies
The implication of GDPR for US companies that control or process personal data of individuals living in the EU is enormous. Compliance is required in nearly all cases. How GDPR can affect these companies is very complicated especially if these businesses handle personal data of individuals both inside and outside the EU. Cloud environments based inside the EU but supported in the US also fall within the GDPR's scope.
US companies are taking the GDPR very seriously. A PwC survey pointed out that over half of their respondents consider GDPR as their top data protection priority. The main reason behind this caution is that the penalty for non-compliance is very significant. 
How to Remain GDPR Compliant with an Employee Time Clock App
Inform Your Employees
GDPR regulations stress upon transparency. And that's fair as a person, in most circumstances, has the right to know that their data is being collected. So in order to stay safe, be honest and tell your employees that you want to collect their data. 
Being transparent about your intentions will open to door to a solid relationship built on trust. 
Clearly Explain Why You Want to Collect Employee Data
You can't just say that you want to collect employee data and expect the matter to end there. To comply with GDPR, you need to have a valid reason behind collecting data, and you need to explain that reason to your employees. 
Here's what you need to do: Have a legitimate reason or reasons for using employee data monitoring software and make sure that your team understands your vision. 
Obtain Consent to Gather Employee Data
Now that you've told your employees about data monitoring and the reasons behind it, its time to get the permission. If you're an organization that wants to collect on people in the EU, provide documentation that clearly states how you plan on collecting said data and the target people's consent. 
Be very clear about what the employee is agreeing to. Don't think that you can hide the text in a 200-page document and expect them to sign page 200. Also, keep in mind that the employees are within their right to withdraw their consent at any time. 
Always Be Ready to Provide the Collected Data
A person has the right to access the data that you've collected. Of course, if you're honest and upfront about the data you're collecting, this shouldn't be an issue at all.  Many applications have made it fairly easy to export productivity reports, screenshots or even the entire data set to all users. 
This lets employees see their own performance and compare it with their past performances. 
Always Be Ready to Delete the Collected Data
If a person wants his or her data to be deleted then according to the GDPR, it needs to be erased. Many employee monitoring software allows users to delete screenshots or time logs by themselves. Individuals can even delete logs without losing data for the entire team.  
Key Takeaways
GDPR compliance is a must for organizations that collect the personal data of EU residents. It doesn't matter if they're based outside the EU, they still fall within the GDPR's scope. 
For companies wanting to monitor employee data, they need to inform their employees, clearly explain their reasons, obtain consent, and be ready to provide or delete collected data.
Additional Business and Data Privacy Trends Resources:
Want to learn more about Business and Productivity trends,
Learn effective strategies regarding data privacy include. Companies need to use encryption in every bit of data, end to end.
Here are Some of the most successful strategies regarding data protection include